Vitals are reusable undies designed specially to absorb your flow. They are built in with a gusset that absorbs, retains and keeps you leak-free even during a heavy flow. The most exciting part? You do not need to wear any pads or tampons when you have Vitals on. Just pick a style suitable for your flow, wear them like your regular briefs on your next flow day.

Vitals come in 6 styles for heavy flow (absorbs 40mls) and medium flow (absorbs 25mls). They are discreet and look like your next favourite pair of undies.

Vitals should last you at least 2 years and more with proper care.
Here's a guide to use and care for them 🌸
1. How to use them?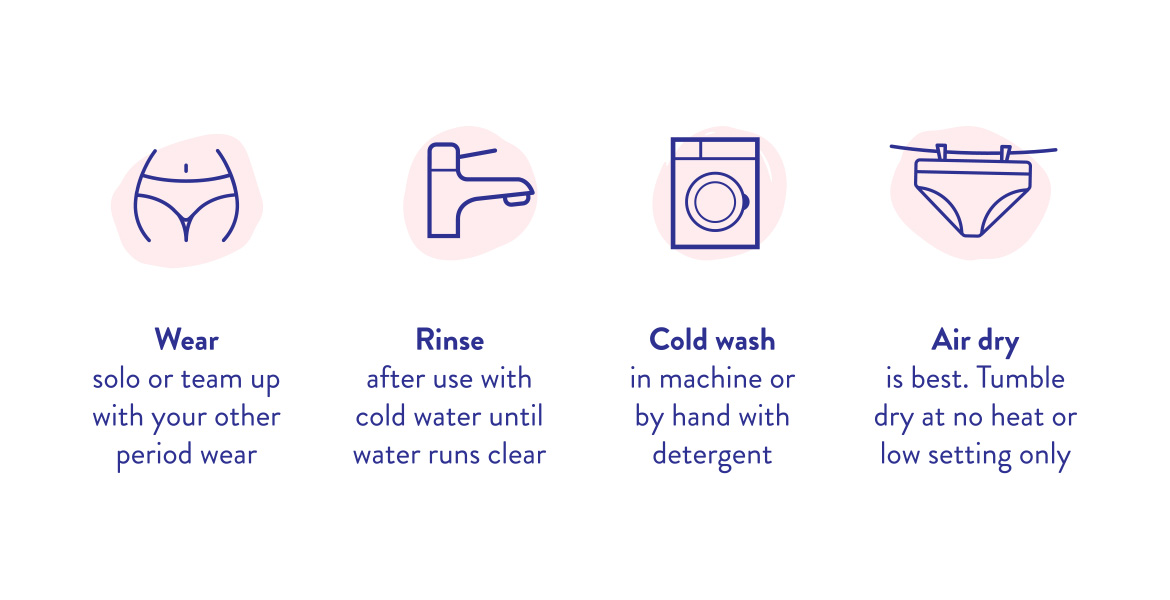 Wear them like your regular undies. Vitals will do the rest. Our leakproof range should last through the day depending on your flow. When you feel the need to change into a fresh pair, do this:

Simply rinse the used pair until water runs clear. 

Add the rinsed pairs to a laundry mesh bag and pop them in the machine for a wash, or hand wash them with a mild laundry soap.
You can also hang-dry the rinsed pairs and wash all the period undies at the end of your period cycle.
After a wash, it's best to air-dry them. Tumble dryer is not recommended as it can reduce the life of your undies. 
2. Ways to dry Vitals
It's best to air-dry in sunshine after washing.

You can dry them on a heated towel rack or in a warm spot at your house. It's important to know that Vitals leakproof capacity can be destroyed if the temperature reaches too high.
 3. Strip cleaning (optional) 
Soak and wash your undies once every few months to make them soft again. To do this, you will need regular detergent and sodium percarbonate (oxi-clean), it is widely available and also biodegradable.
Add a load of 6-7 undies to a laundry sink, bucket or our portable laundry washer bags.
Add 1 tbsp of biodegradable detergent (we use earthwise) and 1 tbsp of sodium percarbonate (oxi clean) to water.
Let your undies soak for a few hours. Squeeze, rinse with fresh water and dry later. 
4. Consider not doing these to your Vitals.  
Vitals is a personal investment for your health and environment. We suggest not to use chemical bleach, fabrics
softeners
or tumble dryers in very hot settings. This will shorten their life. If you usually get your washing done at laundromats, we suggest hand washing them at home after use.
Have more questions? Mail us your queries at team@hervitals.co.nz 
---